The National Institute for Social Media (NISM) is excited to welcome one of its newest educators into our highly skilled community, Magdalena (Lena) Schurmann, SMS.  Not only is Lena a talented Social Media Strategist (SMS) who owns her own business, but Lena is also the first NISM-certified SMS professional in Germany.  Today she also becomes the first NISM Educator in the country!
We recently reached out to Ms. Schurmann to hear more about her background and her vision for moving forward in social media education.
Lena, Congratulations on your new achievement and welcome to the NISM team. We are excited to introduce you to the community.  Can you tell us a little about yourself and how you first got interested in the SMS certification?
My first steps into the business world were as an apprentice bookseller in 2008. I loved the idea of helping people find exactly what they were searching for and getting them to a solution for their needs. During my apprenticeship I learned a lot about management…both good and bad. That encouraged me to dive deeper into the business aspect of the world, so I studied business administration with a focus on HR and marketing, two aspects I found very impactful on a company's success. During my semester abroad, at St. Catherine University in St. Paul, MN, I took an Integrated Marketing Communications class with Dr. Amy Jauman, now CLO at the National Institute for Social Media. That was the first time I saw the magnitude and impact social media has in the marketing field. Through a guest lecture from Jennifer Radke, now CEO at the National Institute for Social Media, I learned that there was a certification program for social media professionals. To me it felt like an interesting path to discover and a good way to stand out of the crowd of marketing professionals. Three years later, with a business of my own and clients in need of marketing and social media support, I was awarded the great opportunity to get my certification and I jumped at the chance and have not regretted it since.
What a small world!  It all started with a small Integrated Marketing class in Minnesota. What prompted you to study abroad at St. Kate's?
It really is a small world! And especially considering that my German university originally did not want me to take the class, because it was a second year class instead of a third year or fourth year. I wanted to do a study abroad semester since my family and I had lived in the United States, specifically Shoreview, MN, when I was a child. The study abroad experience was a chance for me to take a peek into an alternative universe of what might had happened if we hadn't moved back to Germany. St. Kate's came onto my list of universities because my "adoptive" Grandmother (since I didn't have grandparents in the US when we lived there, this older couple from our church became close, grandparent like friends) went there as a young women and always spoke so highly of the school. In addition, St. Kate's, differing from other schools, gave me the opportunity to do only one semester abroad instead of an entire year. Looking back, I am more than grateful and happy that I was given the chance to live and learn on campus, in such a special environment with so many strong, professional women – from faculty, to staff, to students.
Social media is a big part of the lives of individuals across the globe.  Some would argue in both positive and negative ways.  Having lived in both the US and Germany, how has social media helped you to form or strengthen relationships?
Throughout the years I have not only lived in the US and Germany, but also in different areas in Germany. Social media has given me the unique opportunity to strengthen and maintain real-life relationships over long-distances and even time differences. Through instant messaging, social platforms, and networking I can take part in friends' lives, get back in contact with people I had not seen in a long time, and even make new friends and partnerships. In all of this, social media has not only been a tool that I utilize, but also a common interest with people that I have met through classes, my professional network, and online conversations. However, with regards to the different countries, I am still under the impression that relationships in the US are far more common on social media, even when people are in close proximity. In Germany, on the other hand, social relationships are still oftentimes more offline than online.
You mentioned that Germany still tends to build relationships in person. Do you foresee that changing in the future and if so, in what way?
I wish I had a magic ball to look into the future to see if and how building relationships will change, since relationships are such an important part of business. However, from what I see online and offline, I would assume that society will continue to divide into two groups: the ones that stay skeptical of technology and what it entails and the ones that are all in and utilize technology and social media on a daily basis. From my point of view, this will be one of the challenges we face: bringing people together online and offline with an understanding of both sides and how they can complement each other and don't have to exclude each other.
This next question may be a bit early to fully grasp, but we are curious how being the 1st NISM-certified Social Media Strategist in Germany, has impacted your career?
Although I have only held my certification for a couple of months, the certification and being the first NISM-certified SMS in Germany has supported my career immensely. Holding the certification has given me a stronger professional back-up and has proven to be a great conversation starter. Talking about my accomplishment and about the certification has made family, friends, clients, and potential business partners interested in the chances social media can offer to them. Seeing a certification in this profession has made people realize that social media is more than a hobby, but can be a serious part of a successful strategy. In addition, having gained the certification has given me the opportunity to deepen my teaching career through the NISM educator training which will hopefully be the beginning to a great opportunity to work with NISM to bring the certification to Germany.
In the last few months you went from the first SMS to the first NISM Educator in Germany. What excites you most about teaching in the NISM program?
I am very much looking forward to the students I will encounter. Through my personal experience as a coach, consultant, educator, and student, I have learned that there are as many unique stories and experiences as there are students and these stories can be a great learning experience for every person in a class. Especially since social media gives a great basis to utilize the individual experiences, different backgrounds, and interests. I am excited to get to know my students and help them use their individual resources in becoming successful social media professionals.
Your students will be fortunate to encounter your passion and consultative educational approach in class.  For those students that you don't yet have in class, what is one piece of advice you would offer to future SMS students?
Learning, especially in an online environment, is like building a house. Through your education, up to this point, you have laid a stable foundation and built some strong walls to support your roof (your profession) and make the house a great home for your knowledge and your development. Through continued education you are now able to add on to your house, make it something special and unique. Throughout your learning process you will encounter many different informational paths and roads to pursue, and just like choosing the right materials for your building project, you need to find the learning styles, interests, and passions that fit you best. You will never be able to know everything, because there is too much to learn, but pick the pieces you like best, the materials that best compliment your house, and use them to make something special and unique of it
I love that analogy, Lena. Just like a house, you will also find opportunities for constant upgrades or repairs. Things will change or become out of date and the same is true in social media.  What is the next thing you are hoping to learn more about?
Continued learning has always been a part of my life and I am sure it will stay that way. Right now, I am looking forward to diving deeper into some social media platforms and understanding them in more detail. That is why I very much enjoyed the "Advertising on Social Media" class with Ben Theis. Learning different angles of one thing gives a bigger and better picture in the end.
As we wrap up, what is something about you that few people know?
Only a few people know that up until my first encounter with social media, at age 24, in the class at St. Catherine University I only had a Facebook account. So, no worries to social media newbies, there is no reason not to start!
If anyone would like to learn more about Lena's business and what she focuses her energy on, not only in social media, but also as a consultant and coach for personal and professional development, she invites you to visit her website. The website is only written in  German, (www.arbeitsleben-beratung.de) but if you don't read German, you can try her Facebook page, which she often publishes in both German and English (www.facebook.com/arbeitsleben).
You are also encouraged to connect with Lena on LinkedIn or Twitter. For more specific information and inquiries, you can reach out via e-mail at [email protected] .
About Magdalena Schürmann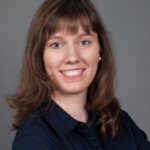 Her passion for organization and solving problems benefits Magdalena's work as a consultant and in coaching private clients as well as small businesses in diverse areas connected to work life – from job changes to social media marketing. In her business ArbeitsLeben Magdalena often helps clients to reduce stress and gain more balance through organization and personal and professional coaching. Her goal is to educate, to encourage, and to empower her clients.
You can connect with Magdalena through her social media channels:
Twitter: @MagdalenaSchrma
LinkedIn: https://de.linkedin.com/in/magdalenaschuermann
Facebook: ArbeitsLeben