Elevate your credibility in social media through training and certification.
The National Institute for Social Media (NISM) is dedicated to social media certification and education for professional social media practitioners. Our curriculum is designed by educators and leaders in digital marketing and communication to validate the core skills essential for success in the various vocations of social media. Not only does NISM offer exceptional education it's a life-long community for professional development, continuing education and sharing best practices.
CERTIFICATIONS
CERTIFICATIONS
Individual
Manage Your Career
The NISM Social Media Strategist (SMS) certification can help you take your career to the next level by showing that you have the proven skills to create, implement, and maintain a successful social media strategy.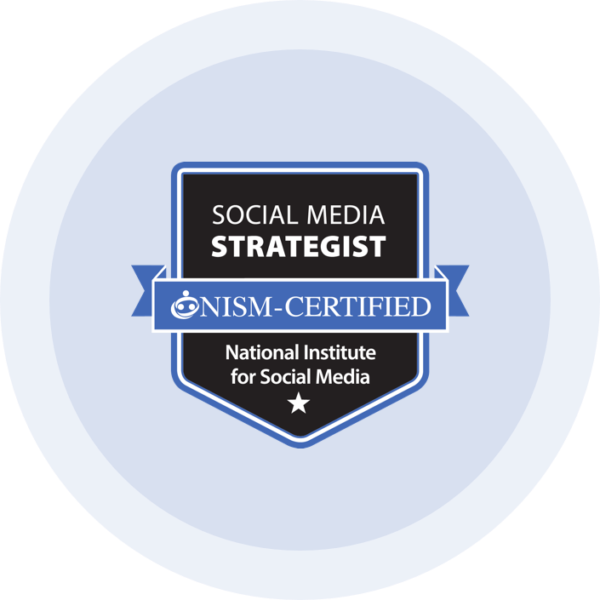 Agency
Develop Your Team
Build a cohesive team and share the credentials of your team with current and potential clients. The NISM SMS certification or customized training options will help you ensure your team members have the skills they need to effectively manage their social media results.
Education
Equip Your Students for Success
Today your students need more than a degree to standout in the sea of marketing professionals. Give them a leg up by adding an industry certification to their portfolio and see them excel.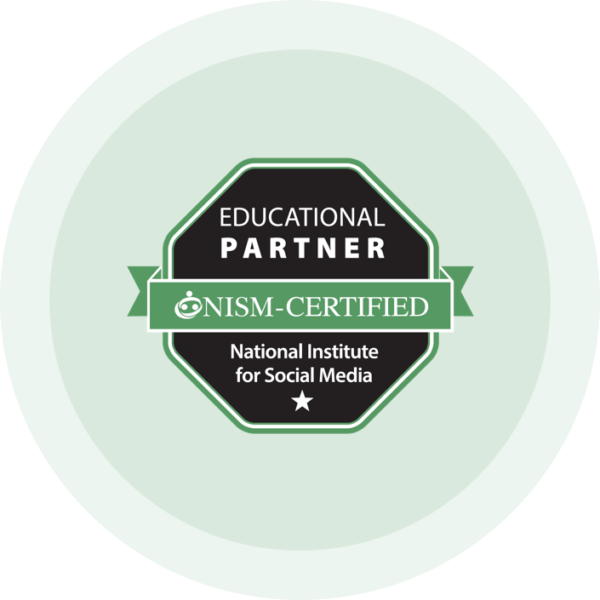 I've worked in social media for years but loved the idea of having a standard exam and certification process to demonstrate my expertise in the industry. I enjoyed the content, learned new things that I could put into action in my work, and grew my understanding of social media marketing. Overall, this has been a great experience!
Kate S.
I apply what I have learned from the NISM materials throughout my daily social practices.
Kelsey K.
Thankful for the scholarship opportunities, study materials, and practice tests. I'm so excited to add this great recognition to my career.
Alexis C.
I should say that my learning journey with NISM has been worth the try. Insightful materials, references, and supervisors. The exam is well-structured and well-principled. I'm glad to be a Certified Social Media Strategist and I'll gladly recommend NISM to my colleagues.
Perci M.
The field of social media is complex. I am excited to have studied and taken an exam to test my knowledge and expertise. This certification has filled gaps in my knowledge, and I am proud to be certified as a Social Media Strategist by the National Institute of Social Media!
Dante J.
This was the first time I had to sit for a proctored exam to gain my certification. Now, when I display my NISM badge, I know I am among a small group of professionals who have been vetted thoroughly for their expertise. It feels good knowing my NISM certification is a true testament of my knowledge of skills in social media. It's not just for show.
Deyra Jaye F.
While studying for the exam I found myself relating client work to some of the tasks or topics in the manual. This made it much easier to understand and apply as I went through the subject matter.
Susan L. S.
I learned so much through the self-study materials and was able to immediately start applying them to my company's social media practices. The webinars offered additional insight from others in the field, and I am beyond grateful that the organization offers practitioners the opportunity to learn from one another.
Brindy M.
The SMS training and certification provides legitimacy to a powerful and evolving marketing discipline. When done right, social media marketing has the power to attract legions of new fans to your brand.
Wendy W.
I've used what I learned in the course to be more data-driven in creating strategies for my clients.
Amanda L.
I would absolutely take the class again. It is obvious from the first chapter of how NISM differs from other services out there. There were visible results in my business from day one!
Evan R.
The course has made a tremendous change in my knowledge and career due to the instructor's unique delivery of information and rich marketing experience.
Jaffer A.
The NISM Exam prep course was very helpful and Amy Jauman is an excellent teacher, clear, detailed and personable.
Caitlin N.
I chose to go the self-study route and I really enjoyed it. The materials were very thorough and helped me prepare for the exam well. The NISM team is great!
Angela H.
NISM provided me with the tools I needed to grow and succeed as a Social Media Professional.
Regina G.
Taking the NISM Social Media Strategist Certification was a wonderful experience. It gives me the confidence to promote and work in the social media arena.
Magdalena S.
Everyone at NISM was extremely supportive and helpful as I prepared to take my certification exam.
Molly N.
Go for it! SMS certification is a good investment in yourself, and opens up a whole new community of social media experts that you can continue to learn from.
Sarah W.
Whether you are looking to advance your career or simply earn a certification to validate your commitment to social media management I highly recommend the NISM Prep Course and Certification.
Bryson P.
I liked how flexible the course was and that everything I was working on applied to my current job... As a full-time working mom, this was huge and great for my development.
Marissa S.
If you are thinking about certification, I'd say "do it" and invest in yourself. You are worth it.
Melissa F.
What is the National Institute for Social Media?
The National Institute for Social Media (NISM) is an organization dedicated to the education and certification of social media practitioners. We have created a community for professional development and set the industry standards for social media education, assessment and certification. NISM follows the certification requirements of the Institute for Credentialing Excellence and uses skilled educators and industry data to develop top-notch curriculum for our adult learners.
What path is right for me?
The path to training or certification will vary for everyone based on their experience, background, and preferred learning style. We recommend individuals complete the Readiness Assessment for a more customized plan. If you are an agency or organization looking for customized training for your team go here. Colleges and Universities looking to offer social media strategy education and certification to their students should go here.
Are the courses offered online or in person?
Most of our courses are offered online to ensure flexibility for learners around the globe. Customized training programs or partnerships with NISM Educators or Educational Institutions often offer an on-ground or blended option. You will want to ask your representative about the courses offered in your area.
What subject matter will I be tested on?
The NISM Social Media Strategist certification exam will assess a candidate's knowledge within six content domains required of general practitioners in vocations of social media. They are as follows: Strategic Planning, Compliance and Governance, Project Management, Social Media Marketing, Community Management, Research & Analysis. These content domains defined by the current NISM Industry Advisory Committee (IAC) Professional Job Study. Learn more by reviewing the NISM Candidate Handbook.
What is the format of the exam?
Our certification exam contains a combination of 165 items including:
Stand-alone multiple-choice questions
Focused scenarios, which consist of a scenario followed by related multiple choice question(s)
Following login, candidates are presented with an entry screen into the exam. When candidates have completed the exam, they will submit it for scoring. Candidates have the ability to move forward or back throughout the entire exam. Candidates have a total of 3 hours to complete the exam.
What are the exam eligibility requirements?
The minimum examination eligibility requirements are the prerequisites that all exam candidates must substantiate before being allowed to sit for the NISM Social Media Strategist certification examination. Candidates must show that they met at least one of the following two requirements:
Minimum of 64 credits (or an associate degree)

Candidates who have studied in areas such as Marketing & Communications, Business or Computer Science are ideal candidates. However, candidates from all areas of study who have at least an associate degree (or at least 64 academic credits) will be eligible to sit for the SMS exam.
Minimum of 2 years of business experience related to social media

Candidates with experience in community management, social media management or related vocations are ideal candidates for the SMS certification. However, all applicants who have at least 2 full years of business experience related to social media in their application will be allowed to sit for the exam.
*All exam participants must be at least 18 years of age.
What are my payment options?
You can register for any of our training, certifications, or purchase study materials with a credit card online. Alternative payment options like: Workforce Development funds, purchase orders, checks or money orders are also accepted. Payment plans are available for those who qualify. Please email
[email protected]
for any of these alternative payment options.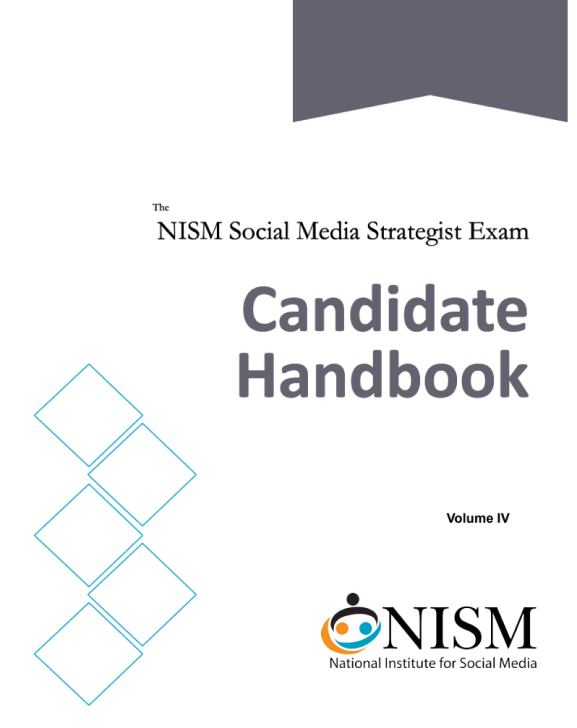 Download our
FREE


NISM Candidate Handbook
The NISM Candidate Handbook provides anyone who is interested in becoming a certified social media professional with an inside look at not only the content of the NISM Social Media Strategist exam, but also what to expect on exam day and how the exam is scored.