Social Media has changed the way that we look at many things in today's society, including how we look at sports. Many people are now looking at social media to help them find sports results, chat with other sports fans and even follow or like their favorite sporting stars, all options which a few years ago would not have even been possible. Millions of people log onto a range of social media sites every single day, whether it be Facebook, Twitter, Instagram, YouTube and much more. The rise of mobile phone users to access the Internet has also helped to add to the number of people that use social media, people can now check their accounts when they are on the move. The experts over at bettingsites.me.uk have listed some of the many ways that social media has had an impact on sports, check out the infographic here.  Below are a few of the best which can be found below.
Live Streaming- Social Media can be a great platform to stream some of the biggest games, races, and matches in the sporting world. By using social media, all the fans can be found in one place with the ability to interact with each other during and after the event. This year the NBA is set to be live streamed on Twitter while Yahoo's first live stream of NFL got 33.6 million video streams.
Club Pages- Social media platforms like Facebook and Twitter have become a popular way for football fans to follow the club or team that they support and stay up to date with all the latest news and results. This has become one of the easiest ways for fans to get information about their team. On Facebook, Real Madrid, for example, has over 104.7 million fans and Manchester United has over 11.9 million followers on Twitter.
Sports Stars- Fans have found that following their favorite sporting star on social media is a great way to get close to them and find out more about them. With instant access to photos, news and personal posts, it is one of the best ways to get close to someone even if you don't actually know them.
Content- Facebook, Instagram, Twitter, and YouTube are all full of different types of sports content including short match clips, interviews, pre-match footage and training ground footage, some of which are exclusive to social media.
Forums- Many sports fans love the chance to discuss match results and player progress with other similar minded people, and social media provides an easy way to find and get in touch with fellow fans in the form of forums. Alternatively, fans can comment on the pictures, videos and posts uploaded onto the accounts or message each other directly.
Sports Campaigns- One of the things that social media is most successful for is spreading a message quickly, which is why many brands and organizations use it for sporting campaigns. For example, the hashtag #ThisGirlCan which was made to encourage women to get into sports went viral, and in the end got over 8 million views in 2015 alone.
Author: Josh Wardini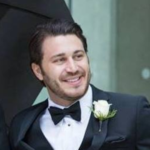 Josh Wardini, Editorial Contributor and Community Manager at https://bettingsites.me.uk . With a preliminary background in communication and expertise in community development, Josh works day-to-day to reshape the human resource management of digitally based companies. When his focus trails outside of community engagement, Josh enjoys the indulgences of writing amidst the nature conservations of Portland, Oregon.