For the last 6 years, I have worked with job seekers and small business owners on how to better build their online presence.  I am continually surprised by how many people are nervous about Twitter, or who, like me in the beginning, didn't understand the professional value of this social media tool.
If you do your research and determine your audience is on Twitter and you want to connect with them there, here are some tips to getting started.
Create a handle that is easy to identify. My friend Scott Ontiveroz wrote a great blog post for job seekers that walks through some important things to think about when creating your account. My tip is to make sure it

r

epresents you and your personal brand AND is easy to remember or share with others. Being clever is fine as long as it isn't confusing to the people who may want to follow you.  For example, misspelling words to be cute without people realizing the words are intended to be misspelled.
Start following people you would like to get to know. These should be people who are in your industry, share common interests, or share helpful information on Twitter. You can start with people you already know on other platforms and build from there. A great place to start is your LinkedIn account. You can find Twitter handles in each of your connection's contact section.
Search topics, hashtags, or companies and toggle to the people tab and see who shows up.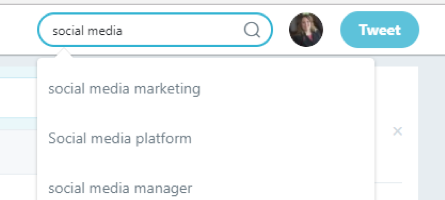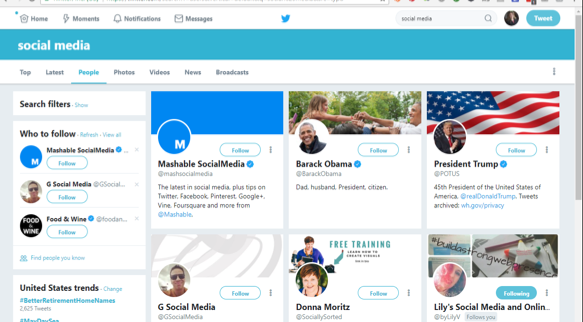 Add people to lists. Lists are a great way to organize your feed so that you are not seeing all topics of conversation all the time. As the number of people you follow grows, it will be hard to keep up with everyone.  When you add them to an industry or topic appropriate list you can filter through and see what more people are talking about online, by simply clicking on that specific list.
In addition, there are limits to how many people you can follow as you are getting things set up. Twitter doesn't want you (or bots) to go out and follow millions of people in a day.  So you will be limited to following 2000 people until you get a good ratio of people following you back. My suggestion is to add some people to lists without following them first. For example, the celebrities that may never engage or follow you back…add them to a list so you can see what they are up to but don't necessarily follow them.
Attract followers with your expertise. You have something to say and expertise to share. When you do that well, people will want to follow you to see what else you share. Here are some different ways to gain followers. This will take time and effort, but it is worth it!

Post article, quotes, resources or other valuable information that your target audience might enjoy.
When posting content, use relevant hashtags so people can find you easier in search.
Retweet or comment on the valuable content that other people are sharing.
Tweet several times a day. Twitter moves fast and people will not be overwhelmed if you post (different content) 3-5 times per day. You can repeat content, but not on the same day.
Engage in conversations. Ask questions, respond to others, thank new followers…whatever is comfortable for you to get that conversation started.
Take part in Twitter Chats. Chats can be a wonderful way to connect to a group of people at one time – people who are online for the purpose of having a conversation with others about a specific topic. Google Twitter Chats for your industry or ask others what chats they enjoy and join in.
Get started! The most important step is to get started. If you haven't Tweeted before, now is a great time.  Tell people about this article and what you learned. Share an industry article or blog post you found recently.  It doesn't matter what it is, just start. You will learn new hashtags and ways to engage as you go.
Twitter can be a great resource for connecting with a wide variety of people from all around the world. Enjoy the opportunities to learn, grow personally and professionally, and build awareness for your business.
Read these blog post for more about using Twitter:
Twitter: A Powerful Tool When You Understand It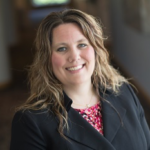 Author: Jennifer Radke
Jennifer Radke, CEO of NISM, is a dedicated, passionate and strategic business leader with 15+ years in sales and recruitment management, leadership, coaching, development and training. Most recently, she was the owner and chief strategist at Socially Inspired, a social media training and consulting company. In addition, she is an NISM-certified Social Media Strategist (SMS), serves on the board for Women Entrepreneurs of Minnesota and can be found speaking and presenting to job seekers and businesses alike, on how to better utilize social media in the workplace. Jennifer believes that lifelong learning is the key to continued growth and your networks are the best way to expose yourself to new opportunities.