Photo by cottonbro studio
As we approach the holiday season, the digital landscape is abuzz with hashtag holidays, from Black Friday and Small Business Saturday to Ugly Sweater Day. While these unconventional celebrations offer a goldmine for marketing and engagement, navigating the sea of social media noise requires strategic planning. In this post, we explore the history, impact, and strategies behind hashtag holidays and how they can become a powerful tool for businesses and individuals.
Without proper marketing planning, hashtag holidays (and really any Awareness Day) can add pressure to your marketing and social media content, strategy, teams, fundraising, and end of year asks. 
These unconventional holidays have become a marketing and engagement tool for individuals and businesses alike that can drive sales, donations, and awareness but also adds A LOT of social media noise, introducing additional posts that bury your content under the algorithms, and can result in low yield campaigns. In fact, social media traffic spikes a whopping 73 percent during the holidays! (Source: Convince and Convert " 5 Ways to Manage Your Social Media Over the Holiday Vacations")
Social media marketing certainly helps amplify these celebrations but are the hashtag holidays really impactful and how can you as a marketing professional build a meaningful campaign?
The History and Impact of Hashtag Holidays 
The birth of Giving Tuesday goes back to November 27, 2012. According to Classy.org, a software company and online fundraising platform designed for nonprofit organizations, there was a team of innovators at the Belfer Center for Innovation & Social Impact in New York City behind Giving Tuesday. They sought to create a movement that harnessed the power of social media and technology to promote charitable giving. A noble effort. 
But, what is the impact of GIving Tuesday campaigns? State of Modern Philanthropy 2022 report showed that organizations receive 10x more donations on Giving Tuesday than on an average giving day. 
Small Business Saturday launched in November of 2010, perhaps less than altruistically by credit card company, American Express. The day now widely adopted helps small businesses gain exposure and to inspire consumers to shop within their own communities during the holiday season. According to American Express, since it started in 2010, consumers have reported spending an estimated $163 billion at small businesses across all 12 Small Business Saturdays combined.
Even the less commercially driven and silly Hashtag Holidays like Ugly Holiday Sweater Day, which swung back into fashion in the 2000s at a Vancouver holiday party, have spurned charity 5km running events, holiday parties with charitable donations, fundraisers, and more. 
These hashtag holidays once social media silly have meaningful impact for savvy organizations, business, and individuals. 
5 Tips for Hashtag Holiday Campaigns
1. Start with your Why: As with any marketing campaign, ask yourself why my audience, supporters, donors, and organization-at-large should be invested in this hashtag holiday.. Does this hashtag holiday align to my brand values, mission, and/or is my audience invested in this holiday? Is this an opportunity for fun, joy, connection? 
A great example of this in mission and brand alignment is from Lush, a cruelty-free beauty brand. On Black Friday 2017, the company launched a limited edition soap to draw attention to orangutan's near extinction. All the revenue from sales went to the Sumatran Orangutan Society. Watch their campaign video.
 2. Prioritize Connecting with Strategic and Thoughtful Goals: The marketing communications around hashtag holidays are a unique opportunity to connect with your audience on a human level but also lead with strategic, thoughtful, data-informed goals. These campaigns allow you to tap into shared interests and values, can be the opportunity to practice storytelling, practice gratitude, and reinforce your relationships, and partnerships. 
Don't forget to define success for your hashtag holiday campaign, with measurable goals for reach, engagement,  conversion rates, abandoned carts, returning customers, etc. to evaluate the impact of the campaign from social media through purchase or donation.. 
3. Optimize your Marketing Experience with Data Informed Strategies:  Simplify your ecommerce process, segment your email communications, personalize your ask for your customers, create UTM tagged URLs for tracking ; these are just a few ways to ensure that your customers can opt into your hashtag holiday promotions seamlessly.  Some businesses are starting and optimizing advertisements for Black Friday and Cyber Monday deals earlier in the Month of November  on platforms like Facebook and Instagram. It gives them time to test and learn, figuring out which creative assets work best, so they can ramp up spending during the four-day shopping weekend.
 4. Don't forget your Marketing Tools: Sometimes a hashtag holiday lives on social media only as a single or multiple posts, other times your strategy can engage your content marketing, website landing pages, email marketing, SEO optimization, and other marketing outreach. It can take seven marketing touchpoints to convert a customer, donor, or supporter to take an action. Use all the tools in your arsenal for a successful hashtag holiday. 
 5. Embrace the Fun, Make the Ask, and Stand Out: It's not a surprise to marketers  that eye-catching visuals, clever captions, and incorporating brand personality into the posts. As a brand known for irreverent comedy and creative gaming, Cards Against Humanity came up with a completely out-of-the-box campaign for Black Friday 2015. Instead of offering a discount to their customers, the company decided to ask them for $5. And what do they get in return? Nothing. Cards Against Humanity's founders revealed that this stunt made the company $71,145, with 11,248 giving $5, and 1,119 people giving more than that. One guy even gave $100. All for literally nothing.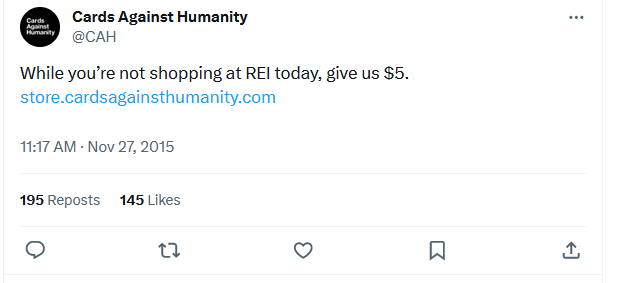 Image Source: X (formerly) Twitter Tweet 
Emerging trends in social media marketing can give your content the algorithm competitive edge in their marketing efforts. interactive content, challenges, or contests during hashtag holidays. Encouraging audience participation through quizzes, polls, or challenges can enhance engagement and make your campaign more memorable. More brands were moving towards interactive and immersive content, such as augmented reality (AR) filters, virtual experiences, and interactive stories.
Rebrand Hashtag Holidays 
Using irrelevant holidays for the sake of engagement is a quick way to alienate even the most stalwart of supporters. A few brands have shifted the narrative of the hashtag holidays staying authentic to their brand values, building long-lasting brand loyalty, and even reinforcing the idea that hashtag holidays can be a platform for social responsibility.
REI Opt Outside Campaign 
One of the longer running campaigns and a great example of staying authentic to your brand and creating emphasis round your organization's values is the outdoor outfitter, REI's Opt Outside Campaign which was in direct opposition to Black Friday consumerism. REI has been running this campaign since 2015 deciding every year that they would keep their stores closed on Black Friday.  This strategic shift in-store hours allowed over 12,000 staff and countless customers to spend the day outdoors. This brand provides guides, articles and expert advice on their Opt-Outside website for meaningful and safe experience outdoors. Besides the benefit of the user-generated content, this campaign built the foundation for long-lasting brand loyalty and a sense of community.
#BlackOwnedFriday by Google  
Google's #BlackOwnedFriday campaign in 2020 is highlighted as an initiative supporting black-owned businesses during the pandemic. Google has since expanded this effort. In 2022, the  #BlackOwnedFriday campaign included 70+ Black-owned businesses, a new track, and a block party in Atlanta. The star-studded campaign included Ludacris and Flo Milli on their journey searching and shopping Black-owned. Customers and viewers could shop the 100+ products seen in the video and attend in-person events. 
Watch Black Owned Friday Video on YouTube. 
Your communication doesn't end with the hashtag holiday
Hashtag holidays are a great way to introduce new followers, customers, and donors to your brand. Don't let this one day and your one interaction be your last but also respect your newfound followers inbox, texts, and communication preferences.  Extend the discussion with your new customers by diving deeper into post-campaign analysis. Explore ways to assess what worked well, areas for improvement, and how these insights can inform future marketing strategies, not just for hashtag holidays but for overall social media campaigns.
Embrace the Hashtag Holiday
The integration of data-informed strategies, optimization of marketing tools, and the creation of engaging content—embodied in the humorous yet effective campaigns further demonstrates the multifaceted nature of hashtag holiday success.
We've delved into emerging trends and showcased the power of staying authentic, building brand loyalty, and contributing to social responsibility.
So, as the holiday rush approaches, let's not merely navigate but embrace the hashtag holidays as opportunities for genuine connection, branding, and community building. Share your hashtag holiday content, experiences, and triumphs  in this season of celebration.
About the Author:

Katy Spencer Johnson, SMS
Katy Spencer Johnson, SMS (she, her) is a Social Media and Content Strategist, Educator, & owner of KSJ Consulting, a marketing consulting group. An advocate for social media best practices and digital literacy, Katy has worked in higher education, non-profit, finance, healthcare, and publishing industries, building content and community. 
Connect with Katy on Twitter @katyb_spencer and on LinkedIn.