In 2020 when a significant percentage of the world transitioned to working remotely, attending classes online, and having our groceries delivered to our front door, many fundraising organizations faced a new challenge. 
With most donations coming from people who give during in-person events, how will we continue to raise money when we can't bring people together?
As a board member of Children's Hospital Association, I was part of those exact conversations. Our solution was to partner with the National Institute for Social Media, an organization already providing online continuing education courses, to get a little creative with our fundraising events.
Let's Get Cooking
One of our first sessions featured gourmet chef Amalia Moreno-Damgaard, an award-winning-bestselling author and leading authority on Latin cuisine. We discussed a variety of ways Amalia could support CHA and how NISM could help, and we landed on a cooking demonstration. But how could NISM – an institution used to presenting strategic marketing education – do the work of a cooking show camera crew?
Begin with the End in Mind
Since the webinar would be delivered from Amalia's kitchen instead of a television studio like she's used to, she and her camera operator (her son!) had to look at their resources with fresh eyes. And since NISM wasn't used to using our Demio platform to deliver webinars that needed to follow live action, we had to experiment, too!
One of the things Amalia taught us in What's for Dinner? Getting Creative with What's in Your Pantry was the concept of mise en place – a French culinary term meaning "everything in its place." Chef's use the term to describe both the state of mind and physical state of preparedness in the kitchen. As it turned out, that perfectly described the mindset we needed to make our webinar-cooking-show a success.
We logged Amalia in as two presenters – one web camera on her stovetop and one on her. Better than watching her on TV, our webinar participants could chat in questions (and they did) as she cooked. She was able to share advice, show product recommendations, and offer food prep tips while three recipes came together before our very eyes.
Once we took a step back, we realized that we had the ingredients we needed to be successful from the very beginning. We just had to approach things in a slightly different way.
One Recipe, Two Positive Outcomes, and Three Partners
NISM, CHA, and Amalia had two outcomes in mind: We wanted to leverage the talents and resources we had to help our community in new ways, and we wanted to raise money for the children and families supported by Children's MN through Children's Hospital Association. We're happy to report that we accomplished both.
Interested in launching a virtual fundraiser of your own? Here's the recipe.
| | |
| --- | --- |
| 1 | Reliable platform that supports your creative idea |
| 1 | Dynamic speaker who's excited to try something new |
| 2-3 | Volunteers from a non-profit willing to get the message out about your event |
| 1 | Sponsor to host |
| | |
| | Mix the talented people dedicated to support a good cause together in one webinar and promote for 2-3 weeks. |
Take a look at our final product and support CHA! We kept our fundraising going through NISM's continuing education school on Thinkific. You can access the What's for dinner? Getting Creative with What's in Your Pantry recording for a $10 donation that goes straight to CHA.
Author: Amy Jauman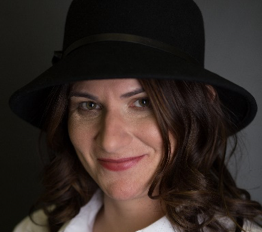 Dr. Amy Jauman, SMS, is the Chief Learning Officer at the National Institute for Social Media and author of the Comprehensive Field Guide for Social Media Strategists. Amy is also one of 58 members representing 12 countries in the inaugural class of the Prezi Educator Society. Previously she was the Social Media Director for Women Entrepreneurs of Minnesota (WeMN) and she currently serves as the marketing director for the Minnesota Chapter of the National Speakers Association. She is also an adjunct professor in the St. Catherine University Business Department and the St. Mary's University of Minnesota MBA program.