Before we get started, be sure to check out my previous NISM blog post, 4 Ways to a Wow Factor on Instagram. Now that we've discussed on-trend visual marketing tactics for Instagram, it's time to showcase the apps and tools that you can use to make these tips a reality.
Editing beautiful pictures
In the previous post, we discussed the importance of selecting and sticking to a cohesive color palette since up to 85% of consumers believe color is the biggest motivator to choose a particular product. Once your color palette is selected, one of the quickest ways to begin posting cohesive visuals is to find a filter and editing tool that you feel represents your brand's "vibe". Here are a few apps that help you do just that:
One of my personal favorites, VSCO is perfect for quick on-the-go edits that take your smartphone photos up a notch. It provides a handful of high-quality default filters that you can start with, and then an in-depth editing suite that allows you to get more precise — editing highlights, shadows, skin tone, white balance, and more! The best part: once you have decided on all of your specifics you can "copy" your edits and paste them to every other photo you upload into VSCO so that you don't have to bother remembering exactly how high you set the saturation for your last post. VSCO is so popular in its editing capabilities that it also acts as a social media network allowing people to share their carefully curated edits.
Cost: VSCO is free when downloaded but offers an extensive library of  filters you can purchase in addition to the free ones you start with.
Yes, you read that right. THE Adobe Lightroom software is now available for free on mobile devices. Now, while the free app does exclude some editing features such as healing and selective adjustments, it still is quickly rising to become one of the most popular apps amongst Instagram influencers. Why? They are making bank from selling custom presets that they created with their desktop Lightroom subscription. These presets are offered all over the internet for anywhere between $3-$20+ on popular selling sites such as Etsy.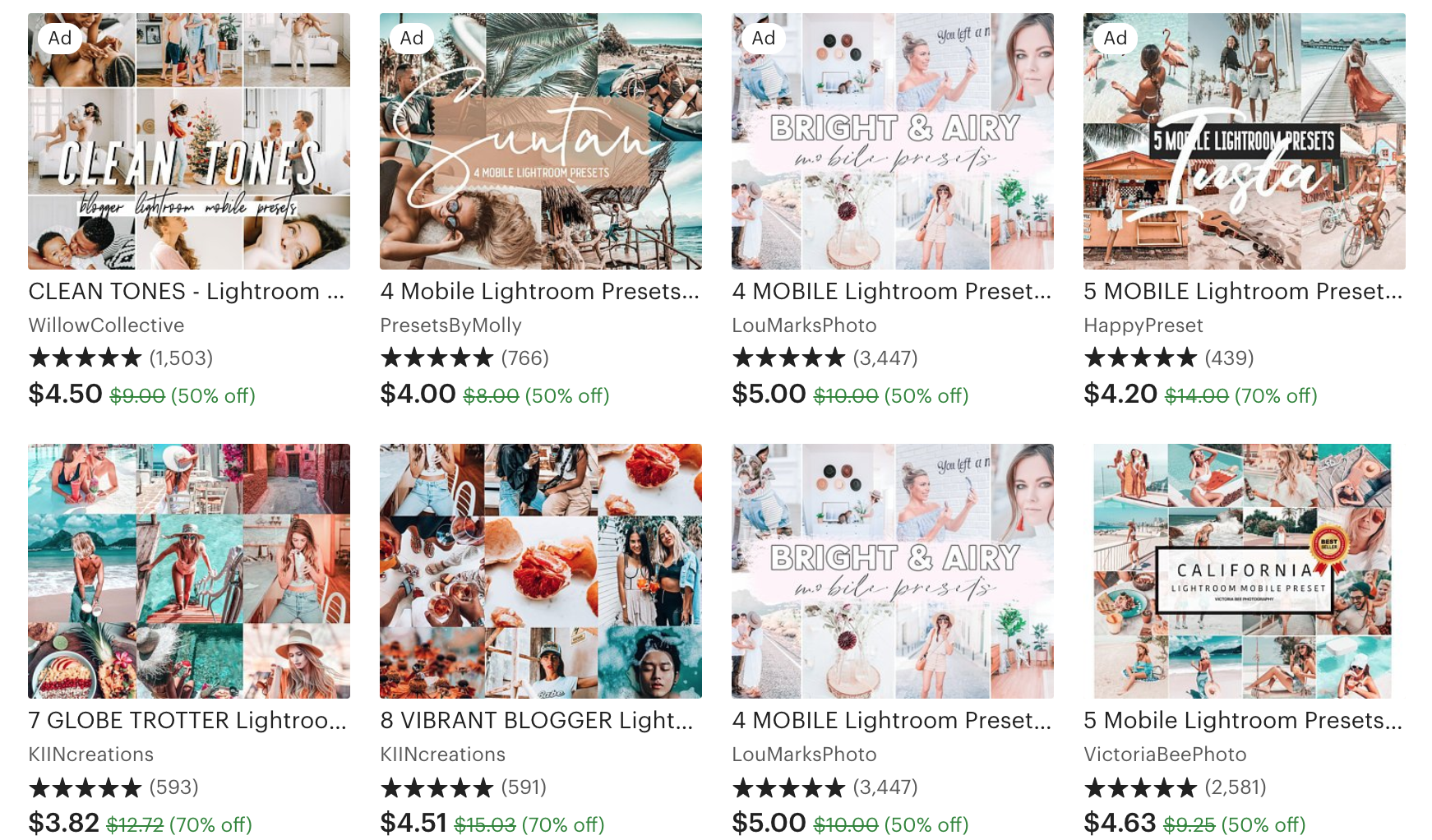 Cost: Again, the app is free and you can save time and money by just purchasing pre-made presets instead of paying for a Lightroom desktop subscription to make your own. Or, find some free presets available on the web. Handy!
Creating themed grid layouts
As mentioned in the previous blog post, curating your profile's grid to reflect a consistent pattern shows consumers that you've put time and energy into the content you post. Here are some great apps to get you started:
One of the most popular Instagram grid planning tools, this app does the work for you if you're looking to create images split across multiple Instagram grid tiles. The app is able to split a photo up in however many titles you'd like so you don't have to worry about cropping it just so. It also boasts capabilities to schedule drafted posts and analyze your audience analytics.
Cost: Planoly is free to get started but increases in features if you choose to opt for one their monthly payment plans.
This app allows you to rearrange the order of photos on your feed before you post them by simply dragging and dropping them. It also has 70+ filter options and handy hashtag tools that let you discover the best Instagram hashtags and save your favorite hashtags in groups.
Cost: Free unless you opt for more advanced features such as managing multiple Instagram accounts or working with a team.
Incorporating text into photos
A common tactic used by brands is incorporating text when they are trying to highlight a special announcement or quotes. The following tools make it quick and easy, even for beginners:
In addition to filters, textures, and frames, this useful app features more than 50 fonts and numerous designs that allow you to type and move text directly over your image. Everything you add to the photo is saved as a layer, making it easy to rearrange or delete aspects without starting over from scratch.
Cost: A one-time fee of $2.99
Available on the desktop as well as mobile, Canva allows you to superimpose text, create multi-image layouts, and pull in a wide range of graphics. They feature a ton of curated Instagram post templates to inspire you or give you a foundation to start.
Cost: Free unless you choose to upgrade to a Canva pro account.
Of course the number of apps and programs available to help with your visual marketing are seemingly endless in numbers. I hope this post helped to outline a few so that your design work seems less daunting and more fun!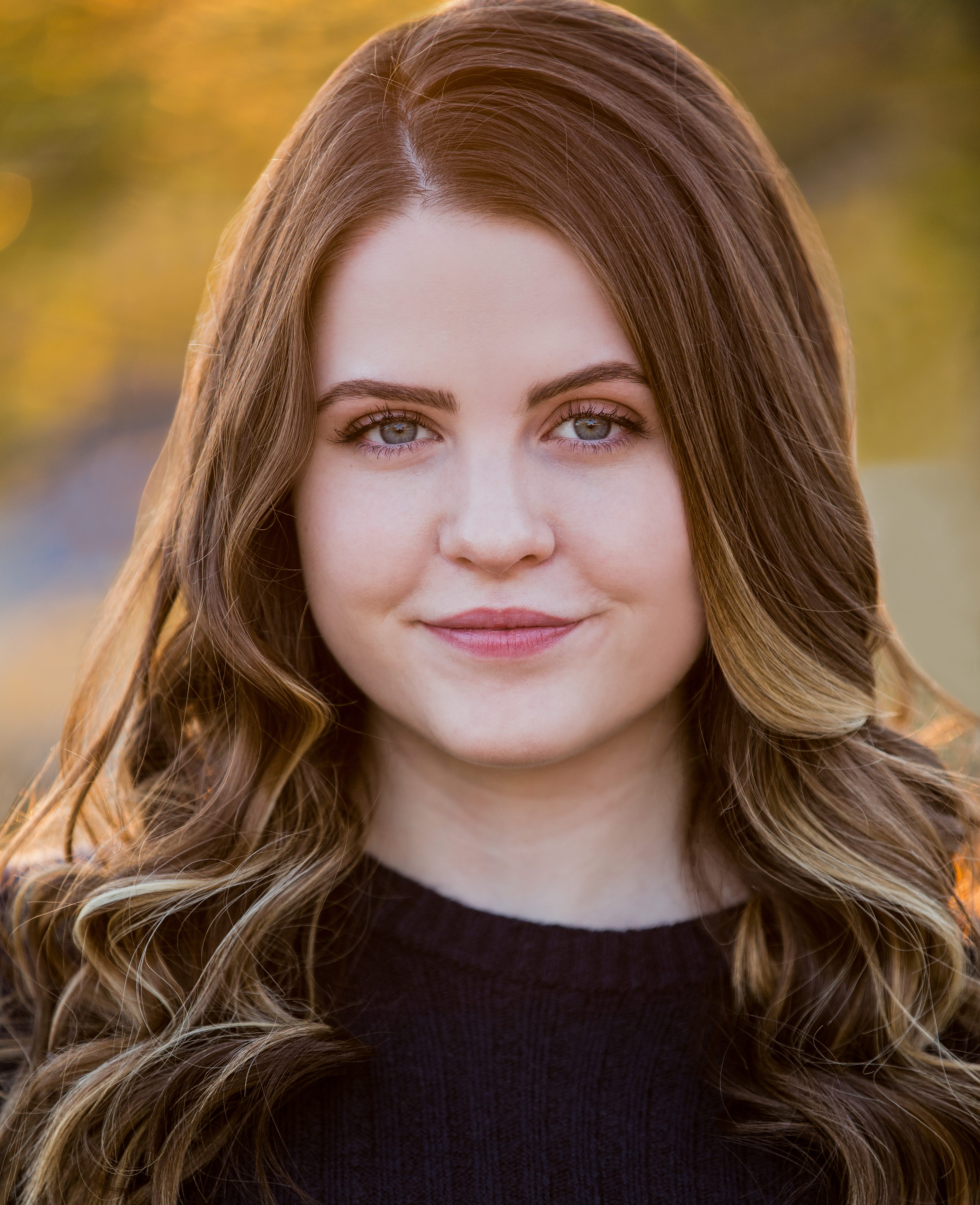 Author: Celeste Russell
Hailing from Las Vegas, Nevada, Celeste soon will be completing her Acting & Communication for the Arts B.A. at Saint Mary's University of Minnesota. Her passions have always included effective communication both on and off the stage. She is delighted to be working as the social media intern for NISM this summer and hopes the skills she acquires will help her in her upcoming job search when she graduates in May of 2020.
Feel free to connect with Celeste on LinkedIn.