Some interesting statistics about online reviews that shouldn't surprise any of us:
84% of people trust online reviews as much as a personal recommendation.

31% more is spent by customers when a company has excellent reviews.

On average, 1 negative review can cost a business 30 customers.
The above data (and more shared by Broadly) drives home the importance of reviews and how they're used, something most business owners understand. But are you writing reviews and contributing to this powerful body of knowledge?
While plenty of people have opinions about products and services, not everyone willingly shares their experiences. The most commonly cited challenge is, of course, time (or simply forgetting). The second most common obstacle is not knowing what to say. We'll tackle both!
Quick Ideas for Time Management
Most people are their own worst enemy when it comes to time management (and writing, for that matter). If you think you struggle to get reviews written because you never seem to have the time, try these tricks.
Block a recurring short amount of time on your calendar for writing reviews. The "appointment" can serve as a reminder to check in (maybe monthly?) to see if you've reviewed the books you've read recently or left feedback on Amazon purchases. And if you don't have anything to review, you get to check the task off your list without doing any work!

Commit to completion, not perfection. You aren't writing the Great American Novel. You're sharing your opinion! Follow the writing steps outlined below to ensure your feedback is clear, but don't make the process bigger than it should be.

Remind yourself of your motivation. Are you writing reviews to support others in your community? Do you believe in the power of the consumer and shared feedback? Do you know that your experiences can help other people? Whatever the reason, understanding why reviews are important for you to complete will motivate you to get them done.
Tips for Writing with Purpose
Not everyone enjoys writing. For some, even crafting 2-3 sentences summarizing their own thoughts can be a daunting task. Add the consideration that they may have mixed or even negative feelings about the product or service and they may feel even more overwhelmed. Whatever the review and whatever your comfort level with writing, consider the following tips to help you get your thoughts on paper (or screen).
Verbally share your thoughts about the product with someone – anyone. Even if your dog is the only one listening, articulating your thoughts out loud will help you arrange them on the page.

Try a version of the Start/Stop/Continue model and ask yourself what you Loved/Hated/Would Change. You'll be surprised how quickly you're able to describe your experience when you approach things so simply. And for your actual review, you can choose to include whatever you want – this exercise is just to brainstorm ideas or a simple outline.

Write whatever comes to your mind and then edit what's on your screen. People often find themselves experiencing writer's block because they attempt to edit as they write. Get it all out on paper and then circle back and fix what doesn't work. It's always easier to edit than author.
What if I feel guilty about only having bad things to say?
First, if you're writing a negative review because you're angry and want to hurt a person or business, I encourage you to write your review and then sleep on it before posting. Reviews carry a lot of weight and you could do more damage than you mean to.
Second, if you had a bad experience and feel sharing what happened could help others (including the business that may need to know how dissatisfied you are), you shouldn't feel guilty about honestly sharing your feedback. I always encourage people to give a business an opportunity to make things right and then, if they don't respond or if you have reason to believe other consumers are at risk, share your negative feedback on a public platform.
And remember to be careful with star ratings – sometimes you can just share concerns in the text portion of your review. For example, if you liked a product, but there was a shipping error that upset you, is it really fair to give the product a single star? Or if you have a short inseam and need to have all of your pants hemmed, is it really fair to criticize the manufacturer for providing a product exactly as described? Sadly, I've seen these cases and others where people vented their frustration in a review, punishing the product or service provider unfairly.
Why write reviews?
Why should you care enough to give feedback? Ask any author, innovator, or business – a positive review is the best thing in the world. It drives business, but it also feels good. It can turn your whole day around and provide motivation in challenging times. You have the power to give that to a seller.
And what about the other buyers? The world we live in provides us with ample opportunity to help each other as consumers. Share the good and the bad that you've learned! You might be the one to say just what they needed to hear. With the smallest amount of planning, you can help the right buyers find the best products. Doesn't that sound like a nice and easy way to help others?
Author: Amy Jauman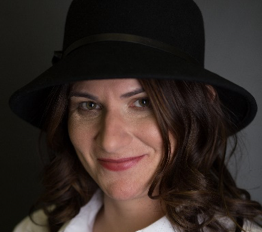 Dr. Amy Jauman, SMS, is the Chief Learning Officer at the National Institute for Social Media and author of the Comprehensive Field Guide for Social Media Strategists. Amy is also one of 58 members representing 12 countries in the inaugural class of the Prezi Educator Society. Previously she was the Social Media Director for Women Entrepreneurs of Minnesota (WeMN) and she currently serves as the marketing director for the Minnesota Chapter of the National Speakers Association. She is also an adjunct professor in the St. Catherine University Business Department and the St. Mary's University of Minnesota MBA program.