Have you ever wondered who or what really influences your followers on social media? There are a lot of metrics available – followers, likes, shares, comments – and they're all subject to interpretation. What has the greatest meaning? And does anything you're currently using actually indicate that your target audience has made a meaningful connection with your brand?
Marketers have enhanced their interpretation of social media metrics using tools like sentiment analysis and enhanced measurements like share of voice, but the Social Media Research Foundation has taken the question of influence to another level through network analysis.
SMRF and NodeXL
The Social Media Research Foundation (SMRF) is the home of the network analysis tools NodeXL Basic and NodeXL Pro. They are add-ins for Microsoft Excel that support social network and content analysis.  Marketers can download NodeXL Basic for free – the perfect opportunity to test out the tool.
How does it work?
A marketer using NodeXL would import data from Excel and other compatible files or through import tools for email, YouTube, Flickr, and other connected sites like Brandwatch and Meltwater. A NodeXL workbook is then created that showcases four tabs: edges, vertices, groups, and overall metrics.
Vertex/Vertices – A vertex is an element of a network. The vertices count is the number of people or things in the network.
Edges – An edge is a connection between two vertices.
Groups – A group is a set of related vertices.
Overall metrics – There is a long list of metrics on the overall metrics tab, including unique edges, graph density, and the vertex radius. For a full list of metrics included, check out this page on SMRF site!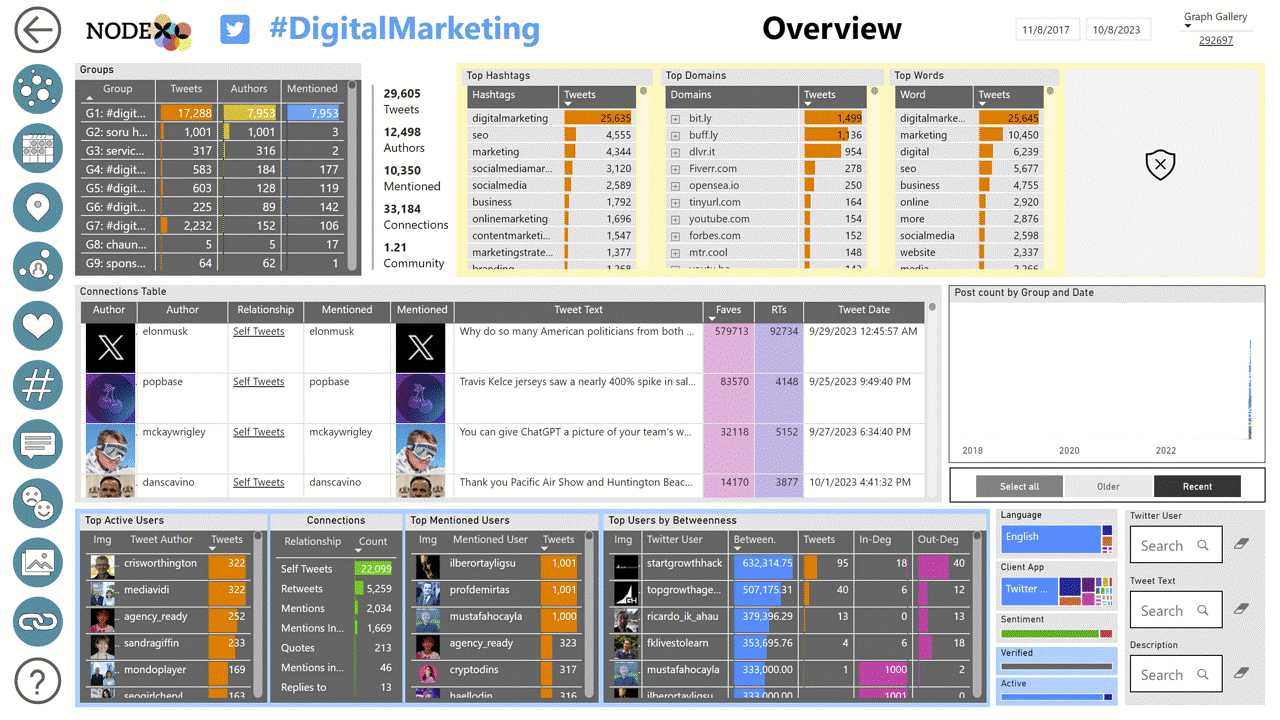 How do you interpret the data?
NodeXL was originally created with sociologists and human behavior experts in mind. The tool allows researchers to look at metrics like centrality and clustering – who's hanging out together and who in the group has the most influence?
Centrality – number or ranking within a graph corresponding to a network position. Marketers may use this to identify the most influential people in a community.
Clustering – likelihood or tendency for "nodes" to cluster together. Marketers may use this to better understand how large and dense a group is.
And, of course, marketers would want to examine relationships at a high level. Who's at or near the center of the clusters? Who is predictably and unexpectedly connected? Most importantly, what can you as a marketing professional do to leverage these relationships?
NodeXL Graph Gallery
If you want to check out what graphs others have created, the NodeXL community has you covered. Visit the NodeXL Graph Gallery to view more than 80,000 network maps on a vast variety of topics from various data sources.  The network reports in the gallery summarize the most important information created with a NodeXL workbook which include top influencer, hashtags, URLs, words, word pairs and more.
Click on any graph in the gallery and you can see for yourself how different patterns can be interpreted and the extent to which you can draw meaning from visual relationships.
Integration with PowerBI
Originally, NodeXL was designed to collect, store, analyze, visualize, and report social media data. But users wanted more and NodeXL delivered. Now it can be integrated with PowerBI to create INSIGHTS reports, interactive dashboards allow marketers to dig into any aspect of the data for a more detailed few of connections. Check out a sample INSIGHTS dashboard here.
What exciting things are on the horizon?
The NodeXL team is continually working to make importing data from new platforms possible. Currently, anyone using TweetBinder, Talkwalker, Brandwatch, or Meltwater has any easy connection with the NodeXL Pro license to analyze data. And, as of last month, data from WhatsApp can be directly imported!
Because the landscape of digital communication is continually changing, SMRF is always working to find the best ways to connect with platform data. Follow their social sites (X, Facebook, and LinkedIn) for updates as they happen!
Want to learn more – join the next half-day workshop for free!
On October 27th, NodeXL will be presenting a half-day workshop that's pre-approved for 4 CEUs for current SMS professionals. Even better – anyone in the NISM community (current SMS professional, those studying for the exam, or any of our other followers) can request a code to attend the workshop at no cost! Check out the workshop details here, email [email protected] to request the code, and, once you've received the code, you can register to hear from the SMRF team and experience NodeXL for free in their next half-day workshop.
About the Author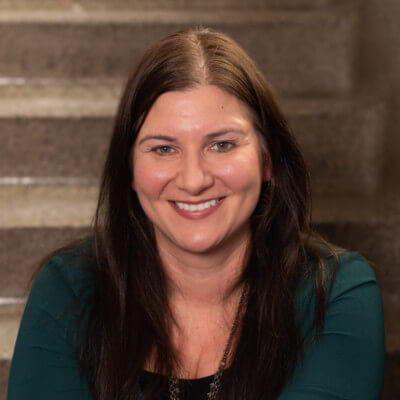 Dr. Amy Jauman is an author, ghostwriter, international speaker, podcast researcher, and university professor. She is a certified social media strategist and certified digital marketing professional with a master's degree in experiential education and a doctorate in organization development. Amy also holds a graduate certificate in crime analysis from Boston University and is an active member of the International Association of Crime Analysts. In addition to her ghostwriting projects, Amy has authored three textbooks, five ebooks, and multiple articles and blog posts.