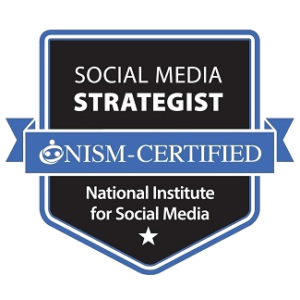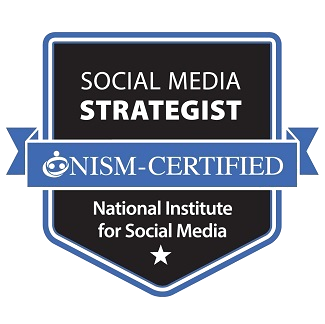 The NISM Social Media Strategist Certification
The NISM Social Media Strategist Certification is the industry leading standard for practitioners to develop skills to develop and execute social media strategies that expand brand awareness, enhance your customer experience and maximize revenue potential. Developed by social media thought leaders, practitioners and industry experts, it is a multiple-choice exam that focuses on the following topics:
Strategic planning – Create a social media strategic plan to help you achieve your company's goals.
Compliance and governance – Develop policies on social media use, compliance, communications and reporting.
Social media marketing – Develop marketing plans and execute go-to-market campaigns that drive loyalty and growth.
Project and campaign management – Develop a content management plan and editorial calendar that includes monitoring and tracking mechanisms.
Community management – Learn how to manage social community networks.
Research and analytics – Track and analyze campaign results, set benchmarks and measure ROI.
It's more than a certification, it's a life-long community for sharing best practices and professional development. As a NISM Certified Professional you have access to:
Directory of certified professionals and online sharing community
Industry resource directory with the latest trends, case studies and best practices
Continuing education hour tracking tool
Not sure if you are ready to take our exam? Start by taking our FREE online readiness assessment.
The benefits of certification
NISM sets a new standard of excellence for leaders and practitioners who excel in social media communications.  The NISM certification process raises the level of sophistication and expertise for practitioners while increasing the confidence for the companies that hire them. NISM Social Media Strategist's:
Stand out ahead of the crowd – They have the skills and experience to increase brand awareness, maximize your earnings and revenue potential, and enhance your customer experience.
Have mastered proven strategies and tactics – Know how to successfully plan, execute, measure and analyze high-ROI social media campaigns.
Use the right tools for the right audience – Will use right strategies and techniques for the right audiences driving growth and loyalty.
How to get certified
We offer online and classroom training to help students prepare for NISM Social Media Strategist certification exam. Students receive a text book for each topic area to help them study for the exam and have as an ongoing resource. To keep up with the dynamic and continuously changing social media industry, NISM Certified professionals are required to earn a minimum of 20 hours of continuing education, every two years, to retain their certification.