Description
Our El Paso blended course option is only offered once a year.  Register now to save your seat for 2021!
Take your career to the next level with this credential in Social Media Strategy!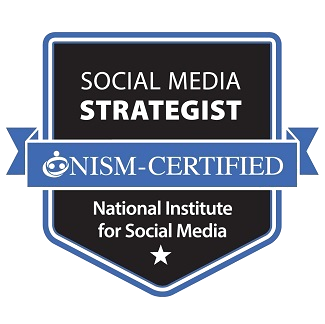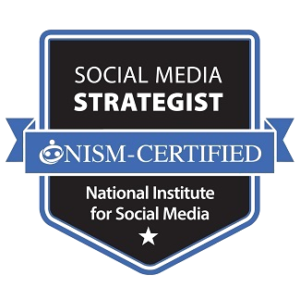 The NISM Social Media Strategy Certification (SMS) prep course is the ideal solution for anyone looking to advance their social media marketing skills.
Course details: 
Cost: $1495
Live sessions: 1.5 hours – once a week for 6 weeks
March 5, 2021 – 10:00 am to 11:30 am
March 12, 2021 – 10:00 am to 11:30 am
March 19, 2021 – 10:00 am to 11:30 am
March 26, 2021 – 10:00 am to 11:30 am
April 2, 2021 – 10:00 am to 11:30 am
April 9, 2021 – 10:00 am to 11:30 am
Included: Course, electronic textbook, SMS exam voucher
Instructor: Crysti Couture, SMS
What's covered in the SMS prep course?
The primary goal of the SMS prep course is to guide students through the six content domains covered on the SMS exam. A passing score on the SMS certification exam will provide students with an industry standardized credential to add to their portfolio of skills and experiences.  Stand out from the crowd and quantify your experience.
In addition to the 6 content domain areas, participants will have the opportunity to explore social media management tools like Buffer and Hootsuite, along with advertising guidelines for Facebook, Twitter, LinkedIn, and Instagram. Though the technical skills covered in these portions of the course are not explored in the SMS exam, they are very helpful when learning social media terminology and in considering how strategic concepts could be applied.
The core learning objectives for each of the six content domains include but are not limited to:
Strategic Planning
Analyzing organizations, markets, and competitors through Segment, Target, and Positioning (STP) analysis
Creating and monitoring social media goals, including Key Performance Indicators (KPIs)
Research and Analysis
Measure the impact of social media activity.
Determine value and report social media activities.
Project Management
Auditing individual social media platforms as well as organizations' comprehensive digital presence.
Managing culture to facilitate social media adoption.
Marketing and Communications
Developing a social media marketing plan
Creating social media content
Utilizing social media advertising and contests
Community Management
Engaging with the social media community
Managing real-time, online communications
Planning social media campaigns
Compliance and Governance
Addressing legal, licensing, privacy, and defamation risk
Creating a social media policy
Target Student
Individual marketing professionals, marketing teams, promoters, public relations/communications professionals, educators, researchers, consultants or marketing students who are seeking to add a professional certification to differentiate themselves in the competitive arena social media marketing.
Prerequisites
Students should have a basic understanding of an end user's experience with common social media platforms and social media terminology and functions, writing marketing content for the web including keyword usage and search engine functionality, general branding concepts and common practices, customer identification, and marketing campaign management.
You can obtain this level of skills and knowledge with an associates degree or higher in marketing or communications plus personal use of and exposure to social media sites, and/or two or more years' of business experience with social media sites.
Student Expectations
The students in this blended course will complete some coursework online and then meet with the instructor for the live classroom sessions.  Participants are expected to complete the following steps:
Participating in both online and in-person classes to explore the details and application of the content domain.
Reading all assignments from the course textbook, the Comprehensive Field Guide for Social Media Strategists (included in course costs).
Discuss a current event related to the content domain. Students share a related current event and their instructor and classmates have the opportunity to chime in and share their own thoughts on the event.
Completing Real-time Education Exercises that allow students to apply what they have learned in class, submit their work, and receive feedback from their instructor. 3-5 assignments are available for each content domain and students are only required to complete one. However, if they are interested in additional feedback, they can submit as many assignments as they'd like to for feedback from the instructor.
Reviewing specific platform content as needed. Though not specifically covered on the exam, one social media tool will be available in the online classroom for review.
An electronic version of the Comprehensive Field Guide for Social Media Strategists is included in the cost of this course. Upon registration, students will receive a 20% discount code if they'd like to purchase a paperback version of the book.  SMS Exam voucher is included in the cost of this course. 
Each student is also given access to two (2) online practice exams to be completed on their own schedule. These practice tests will highlight which areas they should focus on before their scheduled exam if any additional preparation is needed.
All assignments for this class must be fully completed before the scheduled end date.
Get to know your instructor: 
Crysti Couture is a Social Media Strategist certified by the National Institute for Social Media. By focusing on engaging content and effective targeting, Crysti builds strategies which allow her clients to better connect with their customers and target audiences. In addition to managing a portfolio of several freelance clients, she has worked with Barracuda Public Relations since 2016, and previously managed social media for Destination El Paso. Crysti is also a visual content creator and has written for a variety of local print and online publications such as Fusion Magazine, the El Paso Times and El Paso Inc. Her most recent achievement is becoming a Certified Social Media Instructor for the National Institute for Social Media.
During her free time, Crysti enjoys running, volunteering with the Texas Park and Wildlife Department, researching local history, painting, and spending time with her fiancé, son, and three dogs. She also serves on committees and boards for the Texas Trost Society, Paso Del Norte Health Foundation and the Boy Scouts of America – Yucca Council.
Register Today! Space is limited.