Consumer behavior has undoubtedly shifted to the use of digital tools in the last few years due to the COVID-19 pandemic. If you are like me, and you check out your list of purchases on your Target or Amazon app, there's an upward trend in purchases. You've likely purchased something within a social media platform for the first time, too, during the pandemic. 
The Census Bureau has been tracking retail sales data since the 1950s. "According to the most recent 2020 ARTS release, e-commerce sales increased by $244.2 billion or 43% in 2020, the first year of the pandemic, rising from $571.2 billion in 2019 to $815.4 billion in 2020." Online shopping and delivery services grew significantly and were key strategies for many businesses during 2020-2022. Similarly, social commerce purchases and features were fueled by a change in shopper behaviors.
Key consumer shopping trends include:
Nearly ¾ of US consumers have changed their shopping behavior. 

Over a third of consumers (36%) have tried a new product brand.

Supply chain issues have driven consumers to select new brands.

Increased consumer adoption of social commerce or shopping within social media platforms, specifically Instagram, Facebook, and Pinterest.
Online Shopping
Stay-at-home orders forced consumers into online shopping. Continued growth is projected in e-commerce (+35%) for shopper essentials like groceries, personal care, and OTC medicines. 
Home delivery providers like Instacart and GrubHub filled a service need for those consumers choosing to stay home. Delivery to the home is not a new phenomenon, just the swift adoption of food delivery every week in place of dining out. Both companies offer websites or apps for placing orders.
Buying on Social Platforms: Social Commerce
The new digital shopping frontier is social commerce. This is not the same as e-commerce. Social commerce is the direct purchase from the social platform online or via app by the consumer starting with the user's search to the purchase of the item inside the app. The 2021 Influencer Marketing Factory survey showed power in the use of social commerce tactics:
Live stream.

57% said they have purchased something because of a live stream on social media.

Phone purchases.

Over 80% said that they found and purchased an item on their phone.
Influencer discounts.

Over 40% like to take advantage of discounts from influencers.

Buy at least once a week.

Almost 30% buy something using social commerce weekly.
The only social platforms offering a mostly seamless approach to shopping are Facebook, Instagram, and Pinterest. As with traditional e-commerce, checkout speed is the best way to improve both the user experience and the sales numbers. Clothing and beauty are two categories that have seen the most love in social commerce transactions.
Facebook Shops & Instagram Shopping
If you have a Facebook business account, Facebook Shops are free to use. Even better, is the ability to quickly tie in your e-commerce tool like Shopify, Wix, or GoDaddy to load items from your inventory. Further, Instagram business and Facebook business accounts are interconnected and must be linked to set up Instagram Shopping tools.
Read more info about Facebook Shops and Instagram Shopping here. 
Pinterest Shopping 
Consumers can't purchase within the Pinterest app. Product Pins showcase the product features and pricing. Users are sent to an e-commerce page to purchase. Read more about shopping on Pinterest here. 
In Conclusion
Youtube, TikTok, and Twitter are all working on adding a shopping button to their platforms. So, don't lose sight of the future of social commerce as a viable tool for your business. There is likely to be more growth in this area for retail purchases as consumers plan out purchases and fall for brands that will make it easy for them to buy.
References
https://sproutsocial.com/insights/social-commerce/
https://www.accenture.com/us-en/insights/software-platforms/why-shopping-set-social-revolution
https://blog.hootsuite.com/social-commerce/
https://www.census.gov/library/stories/2022/04/ecommerce-sales-surged-during-pandemic.html
https://www.weforum.org/agenda/2021/07/global-consumer-behaviour-trends-online-shopping/
https://www.socialmediatoday.com/news/new-report-highlights-the-rise-of-social-media-shopping-infographic/617315/
https://www.mckinsey.com/business-functions/growth-marketing-and-sales/our-insights/the-great-consumer-shift-ten-charts-that-show-how-us-shopping-behavior-is-changing
Author: Melissa Goodson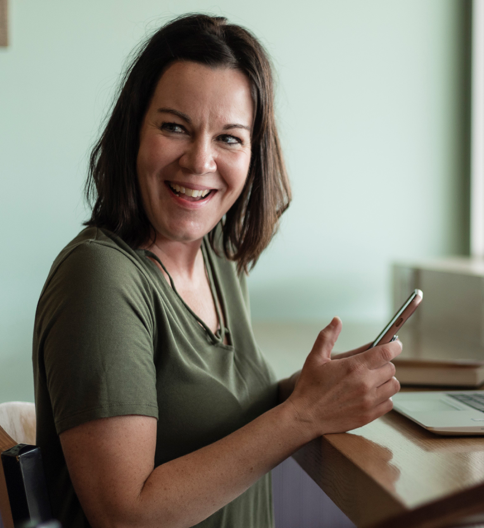 Melissa Goodson is an Assistant Professor of Business Management and Marketing at The College of St. Scholastica.  She received a B.S. in Mass Communications, and M.B.A. in Marketing and a Ph.D. in Organization and Management. Dr. Goodson is a certified Social Media Strategist through the National Institute for Social Media where she also serves as the Vice Chair for the board.
Prior to joining St. Scholastica, Goodson worked in Marketing and Digital Media at The Arizona Republic in Phoenix, AZ and at the Star Tribune (largest daily newspaper in the Twin Cities). She has also served as a Marketing Manager for several small businesses.