Data-driven marketing, strategy, and social media; more than just buzzwords in thought leader Twitter threads. Strategy driven by accurate and actionable data analysis can help marketers, strategists, organizations, and individuals highlight opportunities for stronger social media foundations, growth for digital communities, content with a context, and improve process inefficiencies and workplace culture. That's some pretty heavy lifting for data analysis and reporting.  
A common tool for marketers and strategists is the social media or marketing audit that goes one step further than monthly reporting, offering data benchmarking, qualitative and quantitative analysis, competitor analysis, social channel analysis, and more. 
What is a Marketing or Social Media Audit? 
At its most basic level, a social media audit or marketing audit is a report and analysis of the social media channels – their success, the growth, and the connection to your organization's goals. A deep audit can look at the marketing landscape holistically – from email marketing, website performance and social media channel analysis. A quick audit can look at a single marketing component. The depth of your audit will depend on your business needs. 
What are the steps for building a social media audit?
Step 1: Defining boundaries of social audit

. This will help you set expectations and help you define the scope of the audit and what the audit report may look like.  When working with clients, it's advisable to provide a document that explains the scope of the audit ( what is and what it is not) and setting the parameters for the audit report and the reporting of findings. 

Step 2: Stakeholder Conversations.

Identifying your stakeholders before you analyze the data can help you structure your reporting to be of the most help to key stakeholders. For example, can you utilize terms like reach, amplification or conversion or do you need to provide a simplified reporting that removes the marketing jargon? This is also an opportunity for qualitative analysis, i.e. conversations and surveys about your social media channel.

Step 3: Digging into the Data

. Using the boundaries of your audit and a template set in Step 1, pull the data from your social media channels, run analysis of the data using metrics and draw conclusions. This is the quantitative data analysis of your audit. 

Step 4:  Reporting of Social Media Audit findings.

This is the nerdy fun part. Once you've analyzed your data, write your audit report.

Step 5:  Communicate Next Steps: 

Think beyond the audit report and how the audit report can inspire action within your organization to shape stronger social media best practices, processes, and strategy.
What are the components of an audit?
An audit should be a deep dive for your social media channels. An audit will look at social media profile completion, the efficacy of your social media channel, content analysis, community analysis, and how your social media efforts are contributing to your larger organizational goals or marketing goals. Social media strategists and marketers can structure their audit differently but audits will look at these core components of social media channel performance.  
Additional areas of social media audits can include governance and compliance analysis,  social media advertising spend, and competitor analysis. 
What does a social media audit look like?
Your structure of your social media audit report will depend upon the components that you choose to analyze and what your goals are. If you are an organization that is looking to grow your admissions enrollment or number of customers, you will want to really look at community growth, conversation, and conversion.  Your audit template may be an excel spreadsheet, a detailed report with ancillary components, audit worksheets, or executive summaries with an ancillary marketing report. 
Below you will find a social media audit map and checklist. Download a free copy to add to your tool chest!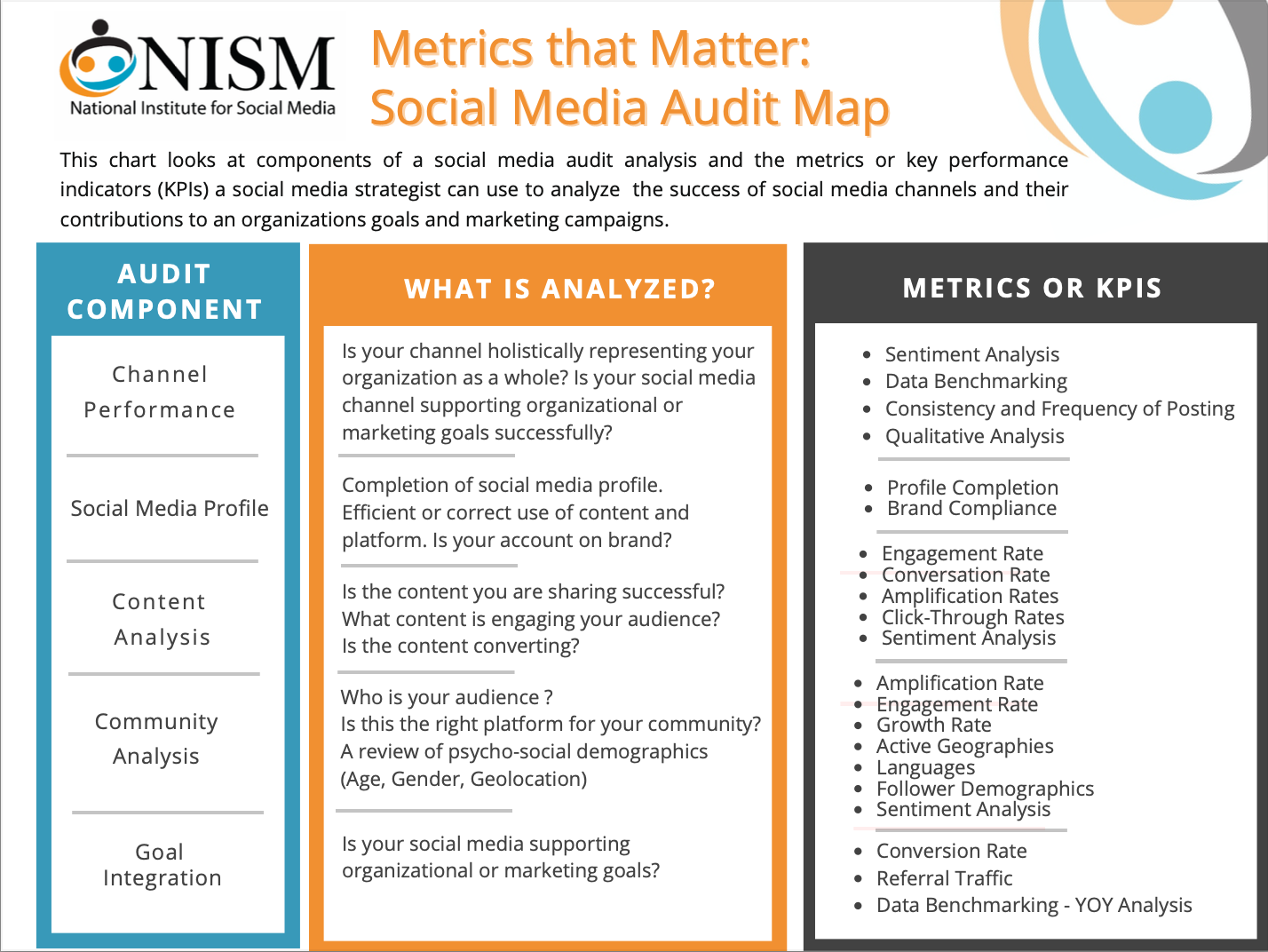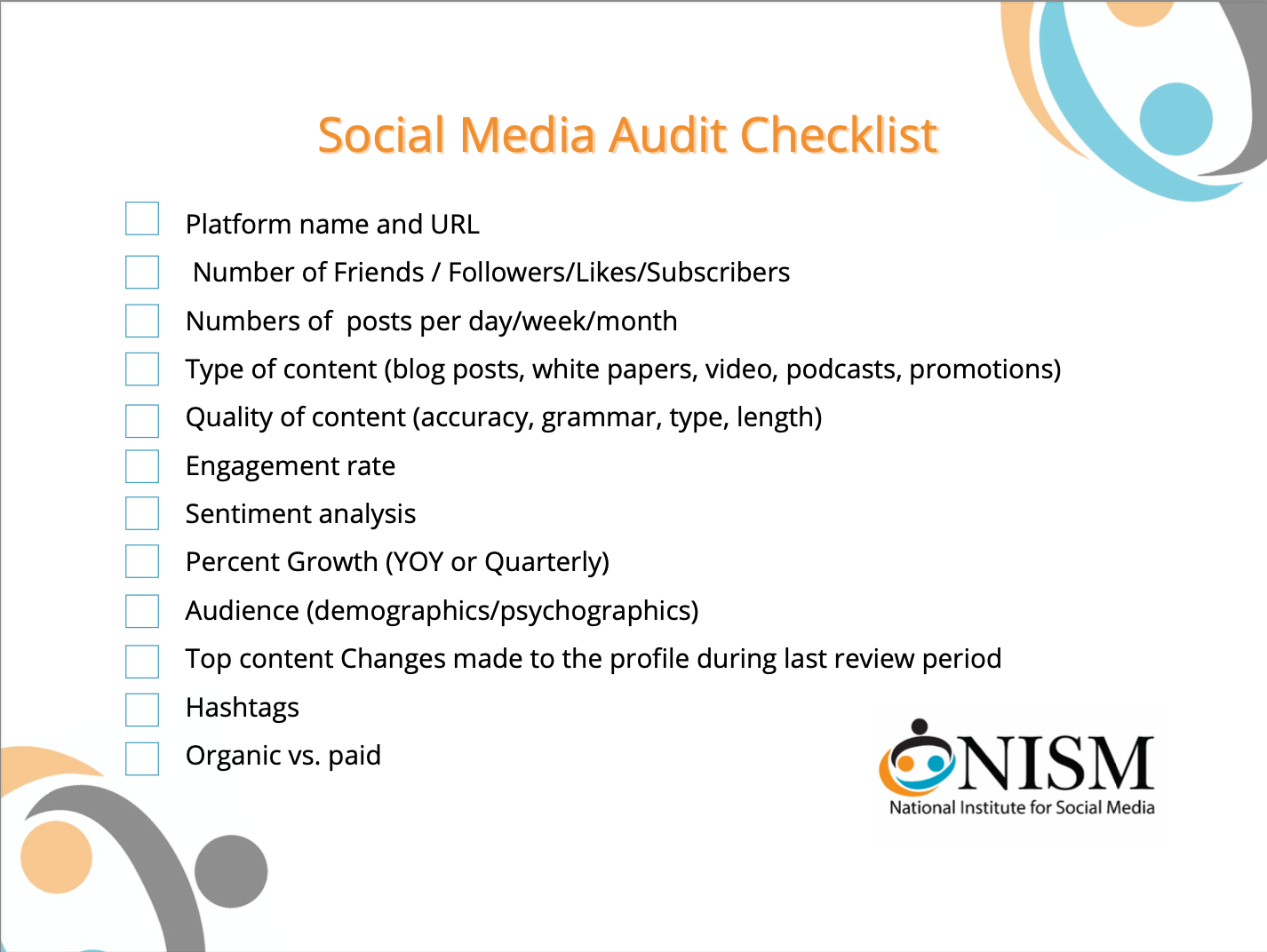 Metrics that Matter 
Much of marketing is founded on measurement: a return on investment, what metrics should be reviewed for determining the success of goals, and key performance indicators for campaigns.  A word of caution for new marketers: do not overlook the metrics that are not in favor of your social media strategy or reflect poorly on your social media channels. Data only tells one side of the story but it's an important story to tell. Context matters in your audit, in your analysis, and in your discussions with your stakeholders. Explore the story of the data and avoid vanity metrics for the sake of reporting. 
Actionable Value Beyond the Audit Report
Once you've conducted and confirmed your analysis of your social media channels, now is the time how to present your findings. This is where your conversations and understanding of stakeholder expectations, the digital media literacy of your organization, and how to make the findings actionable comes into play. This can take many forms.  Social media audit reports can be overwhelming. They are a marketing report full of data that we love to dig into but not necessarily data that our organization needs to understand to be efficient at their jobs.  A few tips to bring your data to life for your organization:
Use your stakeholders language

when defining goals, sharing your audit,  and next steps. This will ground their understanding of the findings and remove all the marketing jargon. 

Embrace the Visuals:

Create a social media dashboard, a one-sheet, executive summary, infographics, presentation deck or an email with quick takeaways. 

 Remove the Data:

You just did all that data analysis, gasp!  Start with your summary, remove all data points, and see if the findings are understandable. Integrate data points sparingly but with impact. 
How can you make your social media audit finding actionable? 
 Put yourself in the shoes of your stakeholders, your clients, your non-marketing colleagues, and ask if they will understand how social media can help them succeed and accomplish their goals. If your social media audit report cannot clearly define this, refine how you report audit findings. Below find a few ways to structure your social media audit findings dependent upon your team structure and stakeholder expectations. 
If working with a social media team of one

, develop a social media team of one workflow or strategy that can scale and pivot based on audit findings. 

If working with a team where social media is a single facet of their role

, integrate quick wins or actions they can take in the next 30-60 days to improve their social media channels. 

If working with an executive team or stakeholder that is data oriented, set data benchmarking and SMART Goals that align to their goals, their definition of success. 
The Social Media Audit Legacy
A social media audit is not a set it and forget it report that collects dust in Google Drive. This is a document that looks at a specific point in time for your social media channels, that tells a story of your marketing efforts and how they align to your organizational goals.  Generally audit reports, given their scope, are conducted quarterly, semi-annually, or annually. This provides you with enough data to analyze and compare year-over-year. Social media audits can be a powerful tool for strategists working with new clients, as a proof point for success with existing clients, or evaluating the return on investment for digital marketing.  
Happy auditing, digital marketers! Continue to deep dive into that data and ensure that your social media efforts are visible, valuable, and available using the social media audit as a tool in your arsenal.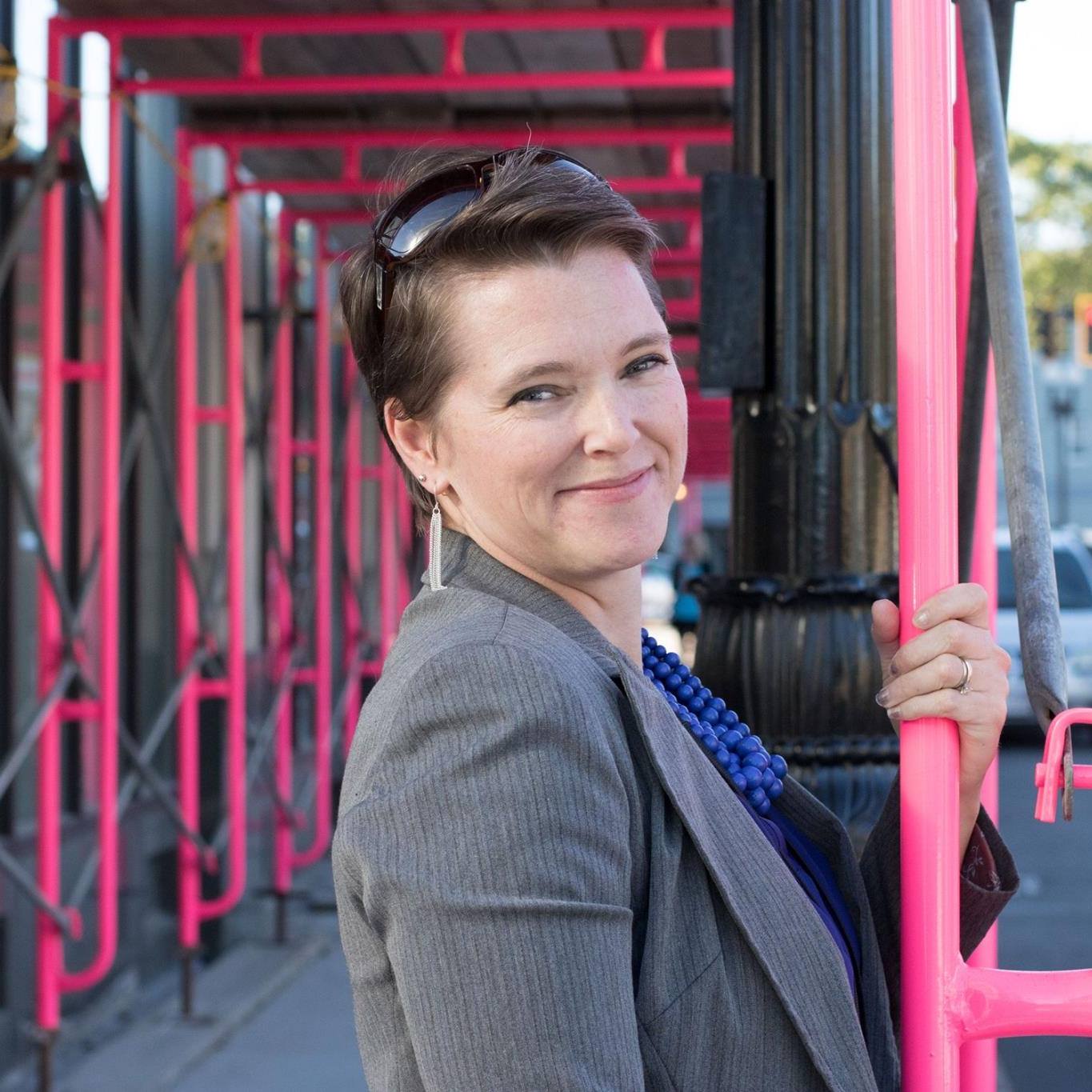 Author: Katy Spencer Johnson, SMS
Katy Spencer Johnson, SMS (she, her)  is a Social Media and Content Strategist, Educator, & Marketing Consultant. An advocate for social media best practices and digital literacy, Katy has worked in higher education, non-profit, finance, healthcare, and publishing industries, building content and community. Katy is the Director of Marketing and Communications for House of Possibilities, a non-profit disability services provider on the Stonehill College campus in Massachusetts. Connect with Katy on Twitter  @katyb_spencer and on LinkedIn.